---
BallScore Themes Properties
---



To access a theme select File/BallScore properties from the main menu then click the Themes tab or click the themes button on the toolbar

.

Themes allow you to set each scorebook to any color you'd like. Each team can have a theme attached to its roster so the selected theme is loaded every time the roster is opened. Each theme can also have its own cursor, text color, lineup colors and cell colors.

Themes

To select a theme click the Select themes drop down box and select the icon you wish to use for your theme background.




Once a theme is selected you can change any of the theme colors except for the icon.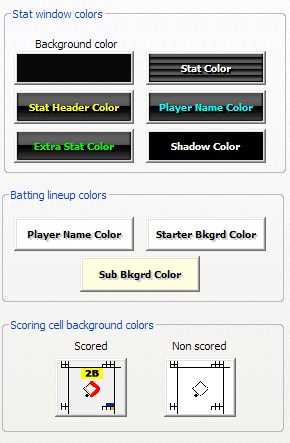 You can select the active and warning cursors to use with the selected theme by dropping down the cursor boxes.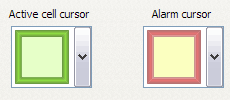 You can select a font for the visiting team and the away team but not for each individual theme.




You can select which icon warning set to use with each theme.





Any changes you make to a theme are saved automatically when you exit BallScore.

You change associate a theme with a roster when the RLM is open by clicking the Attach theme button. The currently displayed theme with be attached to the roster. The same theme can be attached to any number of rosters. Any roster without an attached theme will use the current home or visitor theme.

You can also create your own themes by selecting an empty icon slot (Select Icon) from the Select theme drop down box. Browse for an icon you'd wish to use then change your colors. Your changes will again be saved when you exit BallScore

Button Styles

Sometimes the buttons used with Windows are hard to read, especially when looking for the underlined shortcut key. BallScore allows you to select from 12 different button styles, 3 sizes and from 3 different fonts for the buttons used in BallScore. The buttons can be changed by clicking the Button Style button or by clicking the Style button in the RLM.